Work footwear
that wins on comfort and quality
ABOUT SIKA
SIKA is the result of many generations of experience in developing and manufacturing work and safety footwear of the highest quality. Today, all footwear is developed in close collaboration with a number of professional users, so that natural focus areas for product development are usage, function and fit.
The SIKA range is concentrated mainly on clogs for all industries/purposes as well as work footwear intended for the food and medical industries, food service, cleaning, and hospital and care sectors.
SIKA
clogs series
COMFORT
Clogs with wood veneer footbed
FLEXIKA
Non-safety clogs for job and leisure
FLEX LBS
Clogs with soft leather footbed
FLEX LIGHT
Flexible, comfortable and ESD approved safety clogs
FUSION CLOG ESD
ESD approved clogs with good slip resistance and optimum comfort
PROFLEX
Safety clogs with perfect fit
SUPER CLOG
Safety clogs with extra durability and comfort
SIKA
work shoe series
HIGHLINE
Extra slip resistant and shock absorbing work footwear in an easy-to-clean design.
Read more about HIGHLINE
FUSION
Work footwear with good comfort and fit
OPTIMAX
Lightweight and comfortable work footwear
FUNCTION
Extra slip resistant and shock absorbing work shoes
Read more about FUNCTION
SIKA BUBBLE
Lightweight and durable work shoe with excellent slip resistance
Read more about SIKA BUBBLE
SIKA MOTION
Sandals with superb fit and comfort
LIMBER
Lightweight and sturdy models with wide fit
SELECT
Select models solving basic needs

What do you give the shoe

that has everything?
Accessories
Sika Footwear's accessories program contributes to an even more comfortable working day for the user – for example, with shock absorbing inlay soles and sweat absorbing socks. In addition, we offer various laces and care products to help keep footwear in top condition for a long time.
Construction of an

OPTIMAX work shoe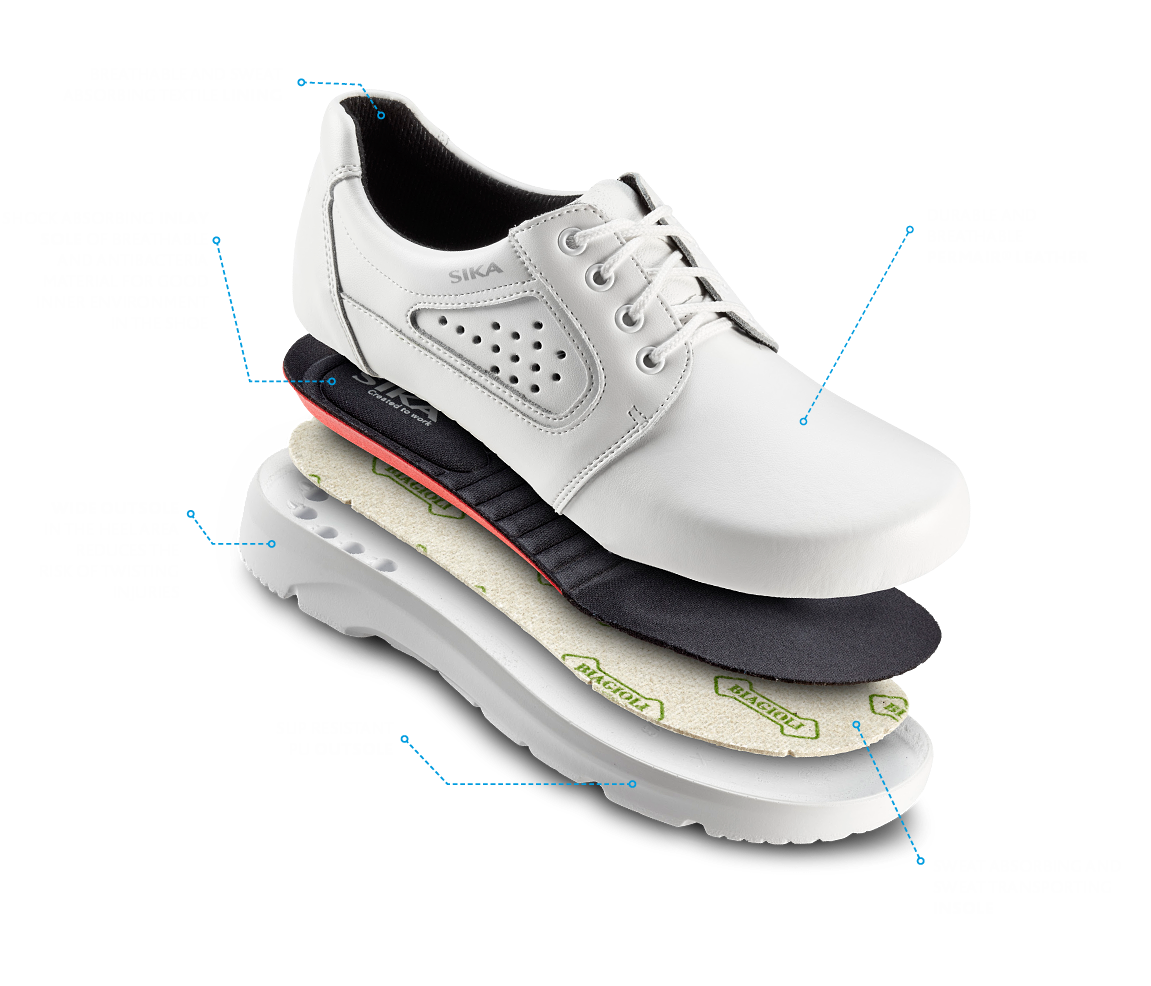 Does your company need coloured work footwear for high-risk zones with special hygiene requirements?