BOA® Fit System
DIAL IN TO FAST, EFFORTLESS, PRECISION FIT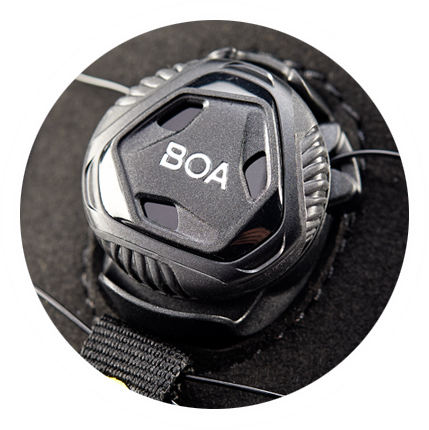 Redefining the future fit
AGILITY AND SPEED
The BOA® Fit System enables faster, more powerful directional changes through a seamless connection between equipment and body.
POWER AND PRECISION
Power without compromising precision, the BOA® Fit System delivers more explosive action and unparalleled accuracy.
DURABILITY AND QUALITY
Engineered with high quality, durable materials, and rigorously field tested, the BOA® Fit System is guaranteed to perform in any environment.
Fit for life with BOA®
The BOA® Fit System dials and laces are guaranteed for the lifetime of the product on which they are integrated.
BOA® for many industries
Whether you work in construction, craftsmanship, industry or transportation and warehousing, there is a BOA® style for you.
Free repairs for your BOA® Fit System
Should the BOA® Fit System on your shoes stop functioning, we've got you covered.
BOA® stands behind its product 100% and guarantees the laces and dials for the full lifetime of the shoe. If the system stops functioning, we will provide you with a spare part package free of charge. Contact the retailer where the shoe was purchased, and they will ensure that you receive a spare part package.
If you need to replace a BOA® Fit System in a safety shoe, please see the overview below to find an instructional video on how to do this. Find the safety shoe and click to see the instructional video.
Get help replacing the BOA® Fit System L4 / L5 for:

check 332 / FADING BLUE
check 629 / FATBOY​
---
Get help replacing the BOA® Fit System L6 for:

check 302 / BLUE STYLE
check 304 / BLUE DRIVE
check 306 / GREEN WAY SHOE
check 416 / LIGHTNING
check 649 / DRIZZLE
check 671 / CYCLONE
check 672 / AIR
check 202220 / PRIMO
check 202221 / PRIMO 1.1
---

Get help replacing the BOA® Fit System M4 for:

check 307 / GREEN WAY LOW BOOT​
check 657 / STORM​