ORIGINAL BOA® CLOSURE SYSTEM
Fast on. Fast off. Fast forward.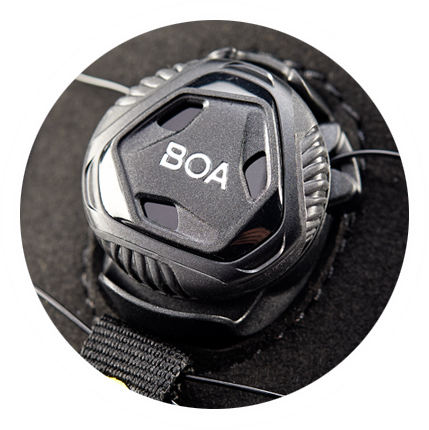 Why choose BOA®
With BOA®, wet, dirty and frozen shoelaces are a thing of the past.
Fast on
Slide the BOA® dial into place and turn until you achieve a snug fit. There is no need to adjust the BOA® closure during the day.
Fast off
Lift the BOA® dial and the laces loosen immediately.
Perfect fit
When the BOA® closure is rotated into place, support will be distributed around the foot, so you avoid creating pressure on individual areas.
BOA® for many industries
Whether you work in construction and craftsmanship, light industry or transportation and warehousing, there is a BOA® style for you
Free repairs for your BOA® closure
Should the BOA® closure on your shoes stop functioning, we've got you covered.
The company that created BOA® stands behind its product 100% and guarantees the BOA® cable and reel system for the full lifetime of the shoe. If the system stops functioning, we will provide you with a spare part package free of charge. Contact the retailer where the shoe was purchased and they will ensure that you receive a spare part package.
If you need to replace a BOA® closure in a safety shoe, please see the overview below to find an instructional video on how to do this. Find the safety shoe and click to see the instructional video.
Get help replacing the BOA® system L4 / L5 for:

check 332 / FADING BLUE
check 629 / FATBOY​
---
Get help replacing the BOA® system L6 for:

check 416 / LIGHTNING
check 649 / DRIZZLE
---

Get help replacing the BOA® system M4 for:

check 657 / STORM​